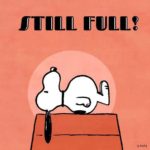 One of the lessons of Thanksgiving is that we eat too much! We eat until we're full, experiencing the sensation of too much.
We confuse our desire for that feeling of 'full,' with the feeling of 'enough.' Even though enough doesn't feel like full, could't we make that be okay?
Black Friday  teaches us still another lesson. The marketers have created a consumer frenzy based on not enough. They've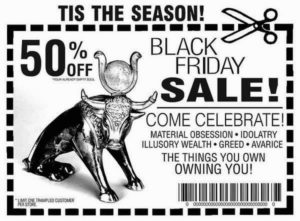 persuaded us that the only satisfying state is for 'more.' Not just in what we've eaten, but in what we own, control or receive.
But more comes with a price and it isn't really desirable. We could try saying, "No thanks, I've got enough."
We live in a world where there is enough; the challenge is that some people start hoarding and wanting exceedingly more than enough!
And when the media starts pumping out images to provoke our 'wants', it's time for us to stop the flow. We don't have to participate!
Our personal challenge occurs when we slip into our 'wants' and live from a sense of 'not having' and of wanting more rather than from gratitude for what we already have.
We live in an abundant universe. And though we may have trouble with the distribution of goods, it doesn't negate all the abundance there is. Our universe is prolific and generous!
Let's choose to be aware and to appreciate all that we have and all that we are!