Here's a lighthearted look at some more word play!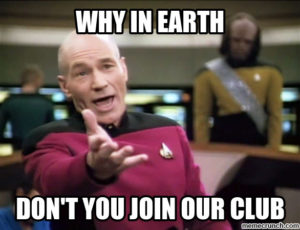 Would you like to join..?                 ANSWER:
The Peter Pan Club?                       Never Never
The Ford-Nixon Club?                    Pardon me?
The Alzheimer's Club?                    Forget it
The Procrastinator's Club?              Maybe next week
The Co-dependence Club?             Can I bring a friend?
The Compulsive Rhymers Club?     Okey-dokey
The Quarterback Club?                  I'll pass
The German Philosophy Club?       I. Kant
The Prayer Group?                         God Willing
Can you think of any other clubs with some possible fun answers?
Or are you more of a "Woody Allen" kind of person?