Do you ever make a "Not-To-Do" list?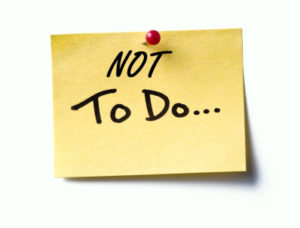 A Not-to-Do list is a basic tool which seeks to reduce the amount of time we waste, and to focus our time and energy on achieving results. After all, how much time does Facebook really need?)
Here's quote I found (don't know who said it) that you might think about:
"A great piece of art is composed not just of what is in the final piece, but equally important, what is not. It is the discipline to discard what does not fit-to cut out what might have already cost days or even years of effort-that distinguishes the truly exceptional artist and marks the ideal piece of work, be it a symphony, a novel, a painting, a company or most important of all, a life."
For many of us…we lead a busy life, rather than a disciplined life.
We behave as though we have an unlimited ability to expand our time and energy for work, relationships, volunteering, social engagements, etc. The trouble is as more comes in, nothing goes out!
What if today you sat down and created your own five item stop doing list? A list of five to-dos you decide to stop pursuing?
Perhaps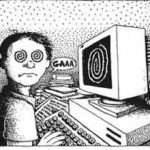 making excuses,
sitting in front of the computer or TV all day,
trying to change people who don't want to change,
eating too much sugar,
letting "shiny objects" derail your goals.
When you have a lot of beliefs and/or activities you want to stop doing, you can consider grouping them into
"Things to completely stop" and
"Things to limit."
Some items on your list may take time to work through (sugar limiting for me?), but you can develop a plan. (having more fruit and healthy snacks visible?)  You can reevaluate your to do list. Consider what you might throw out to make room for the new.
If you wouldn't cut anything, don't accept anything. It's an easy (maybe not easy, but simple!) way to maintain balance and avoid feeling perpetually overwhelmed!
Do you have any tips to share? Leave a comment below!