Enjoy this delightful poem originally written for the 50th Anniversary of our National Children's Book Week in 1969. I like it!
                                          BOOK POWER  by Gwendolyn Brooks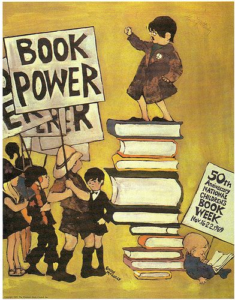 BOOKS FEED AND CURE AND
CHORTLE AND COLLIDE
     In all this willful world
of thud and thump and thunder
man's relevance to books
continues to declare.
Books are meat and medicine
and flame and flight and flower,
steel, stitch, and cloud and clout,
and drumbeats in the air.
And, no, it's not National Children's Book Week here in the US, but it is in Australia (August 19-26.)  And any excuse to focus on books is great!
Australia's theme is Escape to Everywhere and don't you just love

this perfect image for it?

And you don't have to be a youngster to enjoy all these escapes to everywhere.
What do you think of this quote by C.S. Lewis?
     "It is usual to speak in a playfully apologetic tone about one's adult enjoyment of what are called 'children's books'. I think the convention a silly one. No book is really worth reading at the age of ten which is not equally (and often far more) worth reading at the age of fifty – except, of course, books of information. The only imaginative works we ought to grow out of are those which it would have been better not to have read at all."                         (bold is mine!)
— C.S. Lewis (Of Other Worlds: Essays and Stories)
In case you didn't already know, I was a teacher in my first life and a bookstore owner in my second life! Does it show?
A current favorite non-fiction:           A perennial favorite fiction series:
What are some of YOUR favorite books?