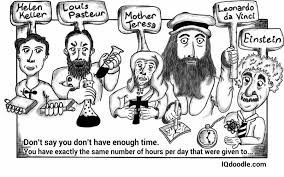 One of the biggest lies we tell ourselves and others is that we are "too busy." It seems to be an automatic default, an excuse for when we don't want to do something (or haven't done it!)
Too busy?
You're not. I'm not. We're not.
We always seem to find time for what we really want to do, even if it's just "vegging out" Maybe it's only on a subconscious level, but, hey, that's still most of where we spend our time!
We're not "too busy." Time is everywhere and equally available to all of us. We each get those 24 hours a day, no matter if we wasted yesterday's or not.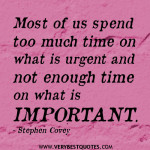 And as Stephen Covey states in this image, we let other people and their urgencies distract us from what we say we want. Excuses come readily to mind when we don't want to do something. And usually that's what they are: not reasons, just excuses!
When we say we have no time, we are either unfocused or uncommitted.
We are either chasing too many balls or we're not honoring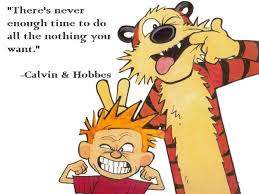 the commitments we've made to ourselves and our larger mission.
So, how do you find the time?
stop scheduling your days to 100%. (try 50%)
stop watching reruns of those old television programs
stop playing solitaire on the computer (my downfall is the online jigsaw puzzles)
stop checking your email every few minutes (try just 3 times a day!)
stop everything that doesn't add to your love of life and other folks
What ideas have

you

used to find the time for what's really important to you?